PHONE AND EMAIL SUPPORT

12 MONTH WARRANTY

FREE UK SHIPPING
Vantage Point Products Reviews
"People that saw the results thought I'd used a drone. Prompt service and great support. If I didn't think the mast was suitable I would have been honest about it, but it's a great system."

Product - 40ft mast and tripod system – Leica BLK360 3D scan application

P.C. – Materials, Plant Inspection & Asset Care Specialist – UK
"Surveyors are delighted with the camera & pole, they used it yesterday and were able to take photos where we could not operate our drone."

M.M. – Architects and Surveyors - UK
"The product is great and has helped hugely with my assignment. Very impressed. The Hasselblad X1D works really well on it, even tentatively at full height. Thanks again for everything, you have designed a very impressive well-made product."

Product – 40ft mast system

G.P. – World Renowned Aerial Photographer & Qualified Drone Operator – UK
"I bought a pole (camera system) from you last year, it has been a really brilliant piece of equipment and gets used regularly."

Product – 50ft 15m - 18.2MP - 10 x Optical Zoom Wireless High Reach Inspection and Survey Camera Pole System

T.N. – Heritage Building Surveyor – UK
"We have been using your camera pole systems on our Solar PV inspection project and they have proved to be an essential part of the project and we would highly recommend them. My lead O&M engineer now has one permanently on his van and they are proving vital to our O&M operations."

Product – Custom 38ft 11.58m - 18.2MP 20 x Optical Zoom Wireless High Reach Inspection and Survey Camera Pole System

M.C. – Operations & Maintenance Team Leader – UK
"It is rare these days to get a reply so quickly and with such incredible detail. The information you have provided will help greatly. Your knowledge and professionalism indicates that you understand the needs or your customers and command your business superbly."

Consultation prior to purchase

C – Sports Videographer – USA
"Now that the cold weather has hit, our drones have been grounded.  We have circulated the mast around to our field folks, and guess what…..they all want one!  I would like to go ahead and order three (3) more of the same aerial masts with camera."  

Product – Custom 38ft (11.58m) 18.2MP 20 x Optical Zoom Wireless High Reach Inspection and Survey Camera Pole System

T.N. – Insurance Loss Adjuster - Ohio, USA
"As you know I have been making good use of my mast, it has been an immensely useful tool, so far enabling me to obtain plan view shots for a collection of rare cars worth a total of over £7million. Such a great bit of kit, I couldn't be without it!"

Product – 30ft mast (without tripod)

D.K. – Photographer, Automotive Technical Drawings
Easy to Carry & Transport
Industrial grade carbon fibre enables all our masts to weigh less than 6.5kg total, some much lighter at only 2kg! 
We designed our masts to easily retract for transport in small vehicles and even airplane baggage holds. 
fast & simple to set up & use
Just one person working alone can set up the entire mast and tripod in under 3 minutes! 
Faster and lower cost than metal masts, scaffolding, MEWPs (i.e SkyJacks) or a drone.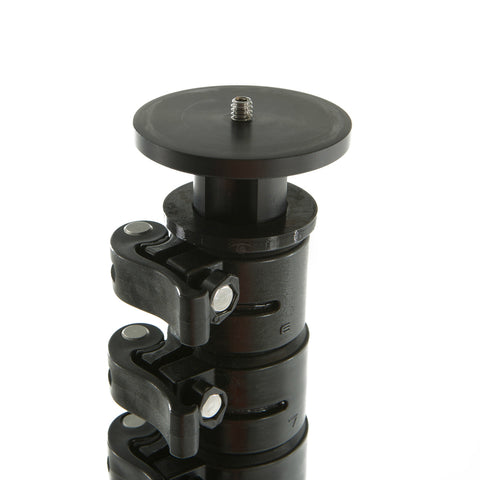 safe & secure payload mounting
Designed to have a wide base plate mounting surface to safely and securely attach a variety of payloads. 
Industrial strength, UK designed and manufactured anodised aluminium and stainless steel screw mount, compatible with multiple devices.